Letter to shareholders
Dear shareholders,
For Valora, 2015 marked the last major milestone in its path towards focussing on Retail. Over the last three years, we have taken one successful step after another: the acquisition of Ditsch/Brezelkönig, the sale of the Services division, the takeover of Naville and then last year, the sale of the Trade division. We are proud that Valora is now able to definitively enter a new era.
In addition, our operating performance and therefore our results were also noteworthy in 2015: despite the continuing difficult market conditions we faced, we set ourselves ambitious goals, which we managed to achieve and, in some cases, exceed. We were also able to substantially improve our margins and increase Group-level EBIT above expectations. This was all achieved despite the management and numerous teams having to spend a great deal of time focussing on the disposal of the goods logistics and Trade division as well as the integration of Naville.
Nevertheless, our work is far from done. We do not expect Valora's market environment to become any easier in the near future. The only way to excel in our industry is to be agile and to continually innovate. Thanks to our real success in reorganising Valora in 2015, we are now a significantly more agile company; this is a trend that we intend to – and indeed have to – continue!
The transformation in recent years, our change in strategic focus and the internal changes have been – and continue to be – challenging. We have been exceptionally pleased to see how our employees have tackled these challenges each and every day, and with such levels of commitment. The Board of Directors as well as the Executive Management would like to thank them enormously for this.
Having successfully developed our shop concept and modernised the k kiosks in Switzerland, we are now enjoying successes in developing the Food area. In particular with regard to coffee, cold drinks and baked goods, there is more potential that we intend to tap into going forward. The foundations have also been laid for effective promotions. In the near future, we will therefore be further strengthening our coffee offering in Switzerland and Germany, including the roll-out of Spettacolo and Starbucks offerings across more than 700 outlets.
This network of top locations remains one of Valora's real strengths, as is the large number of client contacts – an average of 1.6 million every day. We intend to successfully consolidate this going forward, as we are certain that clever customer loyalty measures and electronic services will become considerably more important in future. A key step we took in 2015 was therefore the foundation of the Valora Lab, which develops digital products and services, while accelerating the implementation of new ideas.
After all, Valora's future growth strategy is based on innovation in its products and service offerings. Our strategic focus is consciously based on growth – not least the international expansion of Brezelkönig and the continual development of our Ditsch pretzel and lye-bread production business. To do any of this, we need a highly motivated team.
The Board of Directors and the Executive Management would also like to take this opportunity to thank Valora's customers and business partners. We are working as hard as we can to be a dynamic, customer-focussed company for all of them.
We would also like to thank all of our shareholders for the trust they place in us and are pleased to propose an unchanged dividend of CHF 12.50 at the next Annual General Meeting.
Kind regards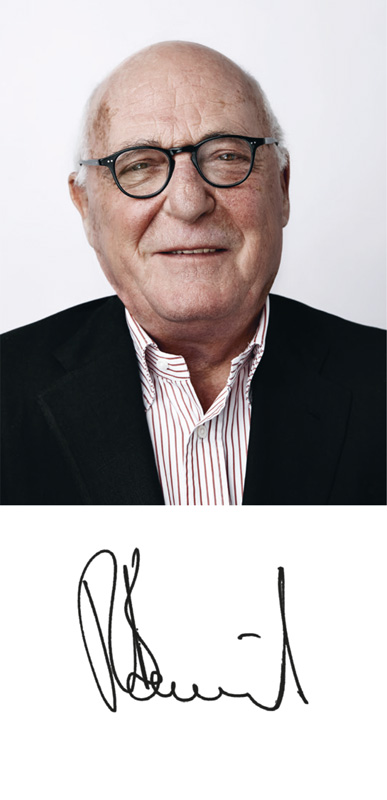 Rolando Benedick Chairman of the Board of Directors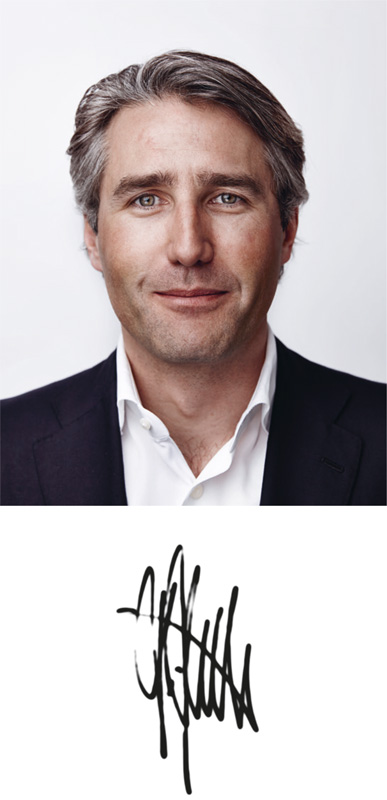 Michael Mueller CEO
Interview CEO
"We will continue to focus on strengthening our food and service offerings and improving customer service."
Michael Mueller, what were the highlights for Valora in 2015?
Over the last twelve months, we have achieved a number of key strategic milestones, while also managing to improve operational efficiency throughout the entire company. I was particularly pleased that we were able to complete the sale of our Trade division and outsource our logistics activities in Switzerland; these marked the last major steps of our strategy focus. This means Valora can now concentrate on its Convenience & Food Service business, with its strong foothold in the production of lye-bread products. With Naville, we have also been able to successfully expand our already strong Swiss network in Western Switzerland.
In integrating Naville, we were also able to improve operational efficiency throughout all of our core processes in the Retail Switzerland unit and in Group Management. Our organisation is now leaner and more agile. At the same time, we have also managed to strengthen our organisation in the Retail Germany unit and pave the way for future growth. The foundation of FinTech company bob finance AG also marked a key milestone. bob finance AG is also part of the newly created Valora Lab, which develops digital products and services – for example our Spettacolo coffee app. As previously announced, we have also taken the first key steps in digitalizing our business. And it goes without saying that I am happy we were actually able to exceed the Group's financial goals despite the extremely challenging market conditions.
Let us move onto the challenges in the Retail area. There is still a particular focus on developing the shop concepts. What has been achieved in this respect?
In the Swiss kiosk business, we have now strengthen our position of the kiosk business. However, we have also continued to make progress in other markets as regards expanding with a range of food products. We successfully introduced ok.– products in 2015 at Naville locations and in Germany, while Spettacolo and Starbucks modules have been integrated into other shop concepts. In Germany we launched a new convenience format and our product range now includes many more products to be consumed on the move. We are making good progress as regards the optimisation of our product range – particularly with a focus on food products – and we are continuing this approach across a number of formats.
So what is next? How will Valora grow?
We will continue to focus on strengthening our food and service offerings and improving customer service. The convenience and food service / take--away market continues to represent a growing fundamental need, as the lifestyles of an increasing number of people are changing. Despite intensive levels of competition, I am optimistic that we will be able to further expand our offering. In Germany, in particular, the market is far less developed and is not as saturated as in Switzerland. The Valora Group already generates a gross margin of around 50 % in the Food area and has great expertise in the areas of coffee and baked goods. Together with our strong portfolio of heavily frequented locations, well-known own brands and our unique position in the areas of tobacco and press / books, we have the solid foundation required for growth. In future, we will concentrate on developing our existing formats, opening new locations with a focus on food, and expanding our Brezelkönig branch concept internationally, which will also involve the continued international development of our Ditsch pretzel and dough production business.
What is the situation as regards control over the entire value chain, an issue that has often been emphasised in the past?
In our food shop concepts, we benefit from a high level of vertical integration – from production right through to sales. We can make use of this expertise in the Food area to differentiate ourselves at our specialised Ditsch, Brezelkönig and Spettacolo outlets, and increasingly throughout our entire Convenience network, as well. In addition to cold drinks, baked goods and coffee represent a key part of our food offering.
How important is it for Valora that Ditsch produces lye-bread products?
We are one of the leading producers in the world when it comes to pretzel--dough products. Each year, we produce more than 500 million baked goods in our highly automated production facilities in Germany and Switzerland, and we distribute our products across the globe. We are known for our exceptional quality standards and high level of flexibility. Over the next few years, it will be extremely important for us to be able to continually expand our production capacities and develop new customer relationships in both existing and new markets.
Which strategy are you pursuing when it comes to the international expansion of Brezelkönig?
As previously announced, we are pushing forward with this initiative. In the first six months, we opened a branch in Vienna – since then, we have increased our presence to three locations – and we then launched two outlets in Paris at the end of 2015. Over the next three to four years, we are aiming to open over 100 outlets in new markets together with franchise partners.
"We rely on committed, entrepreneurial and innovative employees. People who love selling products and talking to a wide variety of customers. People who contribute their own ideas and have fun implementing them."
ok.– is a key own brand. What is next for it?
With ok.–, we have succeeded in establishing an own brand in Switzerland, which has a reputation for offering high-quality products in the entry--level price segment. The products are available exclusively in our outlets. We will now position the brand more strongly in Germany and continue to expand the product range.
What is the situation as regards Valora's plans for its digital strategy?
In the Convenience area, we are – and will remain – the experts for everyday products, whether in the area of press, tobacco, lottery games or services – and of course food and drink for consumption on the move. This has enabled us to become trusted points of contact for our customers, with over 1.6 million visiting us each day on average. Linking customer visits to our outlets with options for digital communication provides us with a range of new opportunities. We are already making good use of these with our offering in the area of payment and financial services (Visa / MasterCard prepaid cards, iTunes, Starticket pay@kiosk etc.), mobile prepaid as well as package services (pick-up / drop-off). In future, we intend to expand the ways in which we directly contact our most loyal customers via digital channels, all of which will further improve their shopping experience. It will also become more important to make use of digital opportunities and analyse customer behaviour so that we can better target our products in line with customers' needs.
What role will the newly founded Valora Lab play in all this?
We want to make use of the digital opportunities we identify. That is why we founded the Valora Lab: the team is tasked with identifying digital trends, promoting digital innovation and accelerating the implementation of new ideas. By tapping into today's technological possibilities and the corresponding interfaces, we are striving to develop diverse, innovative and attractive customer solutions.
Has Valora already launched a tangible product in this area?
We have introduced two new, attractive products: bob money for private loans in cooperation with the Glarner Kantonalbank and ok.– cash, which can be used to load credit onto ok.– prepaid cards at k kiosks and Press & Book shops. Importantly, this means we have expanded our existing offering with financial services. We have also launched the Spettacolo coffee app, which allows customers to order their coffee in advance and benefit from discounts. We are currently working on developing similar solutions for all channels. Here I see real potential for increasing customers' loyalty to Valora and developing personalised offerings.
Let us change the subject now: where is the journey with your suppliers heading?
One thing is clear: Valora intends to be an important and attractive "bridge builder" between suppliers and consumers. We want to establish our POS network as a key marketing and promotional channel. Our numerous outlets offer a unique platform for promoting our suppliers' offerings. We want to place an increased emphasis on this USP. Our POS promotions reach a great many people. The top locations and the rapidly progressing development of our digital components will help us evaluate the potential for each individual customer contact and further develop existing customer relationships.
"We will continue to tap into the real potential for international expansion offered in the area of our successful B2C / B2B concepts with Ditsch/Brezelkönig. We will, however, definitely push forward with new ideas into new markets where we identify opportunities."
You mentioned the acquisition of Naville in Switzerland as being another highlight. Did the integration of Naville go well?
Absolutely. Our teams did an excellent job in this regard. Naville already contributes CHF 240 million – or more than 10 percent – to the Group's sales, and accounts for almost 20 percent of operating profit. By integrating Naville, we have been able to bring together our expertise and establish a new, agile organisation for our Swiss retail business. To do so, we adopted a "best of both worlds" approach. This enabled us to significantly strengthen our market position in Switzerland, which has also resulted in increased profitability.
What has happened in general as regards increasing efficiency? The organisation previously announced that work still had to be done in this regard.
In 2015, we were able to significantly increase operational efficiency throughout the entire retail organisation – both in Switzerland and Germany. We are experiencing a fundamental shift in the retail business and are operating in a challenging, fast-moving market. An agile organisation is of vital importance in this respect. An important factor here is not just reducing the cost base, but also increasing the speed at which we adapt our concepts and innovations. This has allowed us to lay the organisational foundation for implementing our growth plans. In our business, it is people who make the difference. We rely on committed, entrepreneurial and innovative employees. People who love selling products and talking to a wide variety of customers. People who contribute their own ideas and have fun implementing them.
Will this transformation also result in a cultural shift?
To a certain extent, that will of course be the case. Our focussed strategy should also be reflected in the way we act in relation to each other: we want flatter hierarchies, we want to promote a sense of individual responsibility, we want to be more agile in general. And we want to accept mistakes throughout all of this.
Are you experiencing any difficulties in this regard?
It is indeed challenging, and therefore deserves real recognition. I would like to take this opportunity to personally thank all our employees on behalf of the entire management team for having shown so much commitment in helping to shape the transformation that Valora is undergoing – indeed has to undergo. It never fails to impress me when I see how the team works hard from early in the morning until late at night, all the while demonstrating such a will to change and shape the company.
Let us discuss the figures briefly. How do you view 2015 on this basis?
We achieved all the goals we set ourselves. Indeed, Naville actually exceeded its goals. Furthermore, the Swiss business performed very well compared to the market and we were able to substantially improve margins. Germany is progressing well and has real momentum. And Ditsch/Brezelkönig achieved good results despite the intensive competition and challenging conditions it faced. The production / B2B area again performed extremely well, in particular.
During 2015, we managed to increase EBIT at Group level from CHF 30 million to CHF 55.1 million, which exceeded expectations. This performance is pleasing even when taking into account last year's extraordinary writedowns. And we managed all of this against the backdrop of the strong franc, shopping tourism, the rail strike in Germany and the nationwide introduction of the minimum wage. I was particularly pleased with our home Swiss market, which is a key element in the Group's profitability. Here we were able to significantly increase our margin to 2.0 % after adjustments for one-time effects. Overall, we generated earnings per share of CHF 12.51 from ongoing activities, which corresponds with the amount of the dividend.
"And it goes without saying that I am happy we were actually able to exceed the Group's financial goals despite the extremely challenging market conditions."
Return on capital employed and free cashflow are significant KPIs in your business. How satisfied are you in this regard?
At Group level, we were able to significantly improve our ROCE in 2015, to 6.9 % on an adjusted basis and we are confident that we will be able to achieve our target ROCE of over 8 % in 2016 / 2017. Thanks to the considerable improvement in the Retail area by 3 % to 10 % (excluding liquid assets), this goal is now well within reach. Free cash flow from continuing operations was especially pleasing, at CHF 82 million – or CHF 24.5 per share. Averaged over the last three years, we have generated a free cash flow of CHF 16 per share, which is clearly above the dividend of CHF 12.50. This has enabled us to reduce our leverage ratio for continuing operations to 2.1x. We therefore have a solid balance sheet as the basis for financing future investments, maintaining and developing our network and growing the Group as a whole.
Are there any specific aspects in the figures you would like to highlight?
Following the sale of the Trade division, there have been significant non-cash effects, which have an impact on profit. However, there will not be any further one-time special effects. In general, the time of numerous one-time effects resulting from the Group's repositioning is over.
Earlier you mentioned Valora's change in strategic focus. Has this process now been fully completed?
There are still a few, small puzzle pieces to slot into place, and then our shift to focussing on convenience-retail and immediate-consumption goods in highly frequented locations will be complete. Valora is starting 2016 with a clear position as well as strong, attractive brands and shop concepts in five countries. Our focus is now on developing this concept and on growth.
What specifically must still be done before the repositioning is complete?
In 2015, we reduced complexity within the Group, even aside from the disposal of the Trade division. Following the previous sale of our press wholesale operations and press logistics activities to 7Days Media Services, last year we were able to outsource our goods logistics from Retail Switzerland to this partner, as well. We are now looking at selling the Naville Distribution logistics platform, but this is still in the evaluation phase. The Naville transaction also involved the acquisition of real estate at an attractive location in Geneva, which we also intend to sell.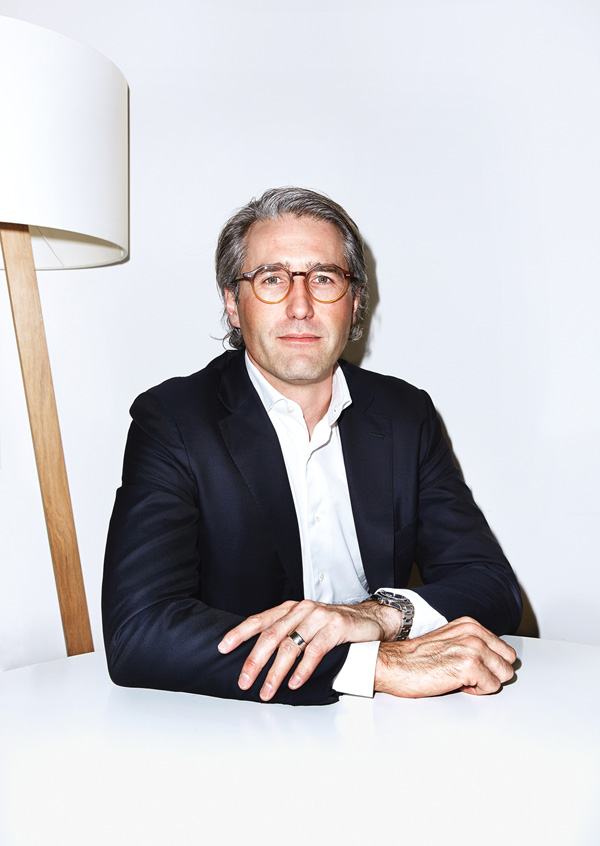 What are your future ambitions as regards customer focus, now that the Group's transformation is behind you?
Our ambitions mainly centre around our top network as well as strengthening vertical and digital integration. We are close to our customers, and we want to make use of the opportunities this brings. At all times, we have to focus our activities on well informed customers who are looking for high-quality products. We want our offerings and services to cater to the increasingly digital lifestyles our customers lead. We all have to be innovative, agile and dynamic.
As a brief summary, what will be happening in 2016?
The focus is now on developing our existing business. We are in an excellent position to do just this: we currently operate in Switzerland, Germany, Luxembourg, Austria and France. More specifically, we will focus on the continued development of our Retail and Food concepts in Switzerland and Germany in particular. And we will continue to tap into the real potential for international expansion offered in the area of our successful B2C / B2B concepts with Ditsch/Brezelkönig. We will, however, definitely push forward with new ideas into new markets where we identify opportunities. The digital expansion of our offering will also provide us with opportunities to position ourselves as a multichannel retailer able to link the digital world with our points of sale.
The most important thing to note, however, is that 2016 will clearly show that it was the right decision to focus on the Retail business. Our team has a real thirst for action and is full of good ideas!
Growth drivers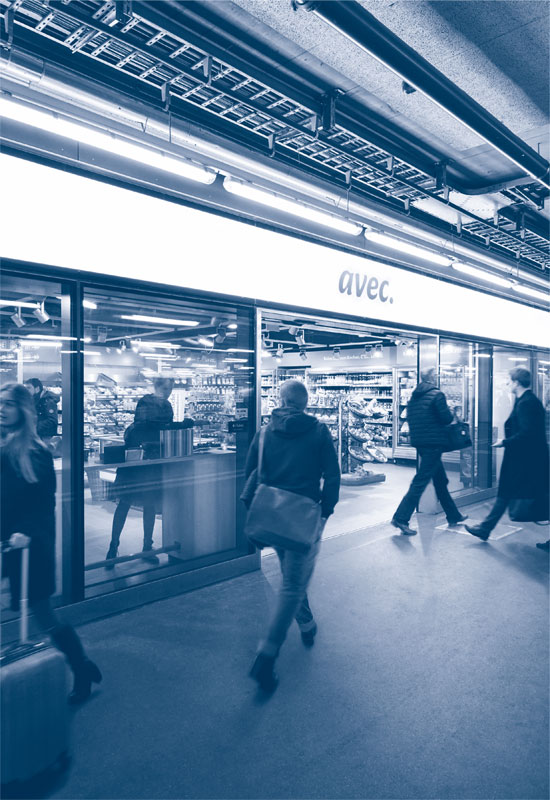 NEW EVERYDAY CUSTOMER NEEDS: IMMEDIACY AND CONVENIENCE
When it comes to daily consumer staples and refreshment on the move, we are the experts. Today, and in the future. In a fast-paced, mobile world increasingly characterised by smart digital technologies, more and more consumers are eating while on the move and often have little time for their daily shopping needs.
We aim to offer our customers top-quality products and services that are both relevant to their needs and readily available. A million times a day, from early in the morning till late at night, our outlets provide our customers with familiar surroundings where they can quickly find the things they need and enjoy. We listen to our customers, responding quickly and flexibly to their needs.
---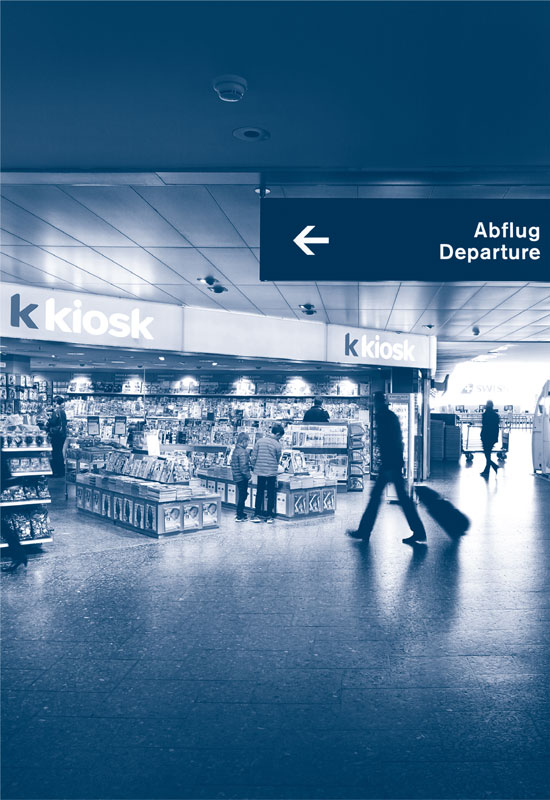 SMALL OUTLETS WITH A MAJOR MARKET PRESENCE: COMPREHENSIVE NETWORK – APPEALING BRANDS – CUSTOMER CONTACTS BY THE MILLION
We are the leading small-outlet retailer in German-speaking Europe. Our competitive, comprehensive network with its attractive brands and store concepts is systematically focused on heavily-frequented locations, keeping us in close contact with our large and loyal customer base.
Our popular brand portfolio and successful retail formats, already operating in Switzerland, Germany, Luxembourg, Austria and France, with other openings planned in new international markets.
Thanks to our network we can respond rapidly and flexibly to the entire spectrum of our customers' needs. The large number of customers it serves every day and its comprehensive outlet network also make Valora a key business partner for the industries whose products it sells.
---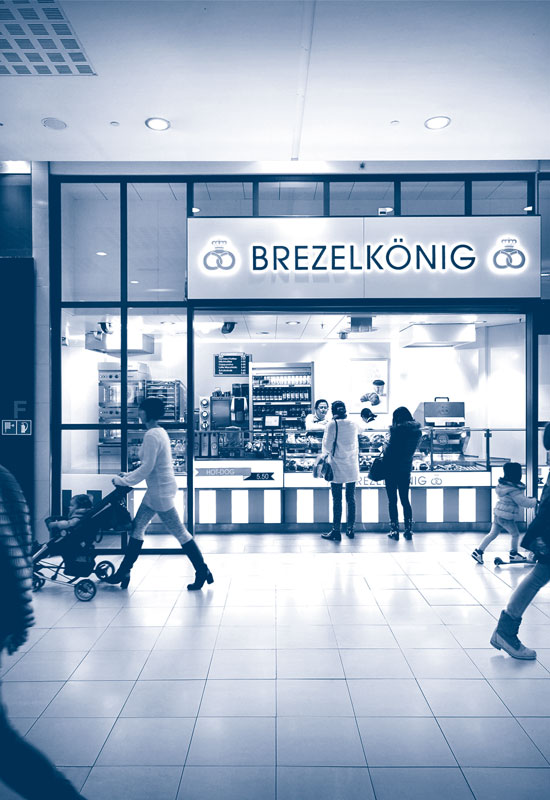 FRESH FOOD ON THE MOVE: FROM PRODUCTION TO SALE
We aim to capitalise on the growth potential for fresh, high-quality food. To that end, we are expanding our food-and-beverage offering and increasing the degree of vertical integration within our retail formats, for everything from morning coffee to evening snacks.
We produce our own lye-bread and other bakery items in house, both for our own outlets and major third-party customers. This not only gives us a significant competitive advantage, it also provides us with substantial scope for international expansion.
---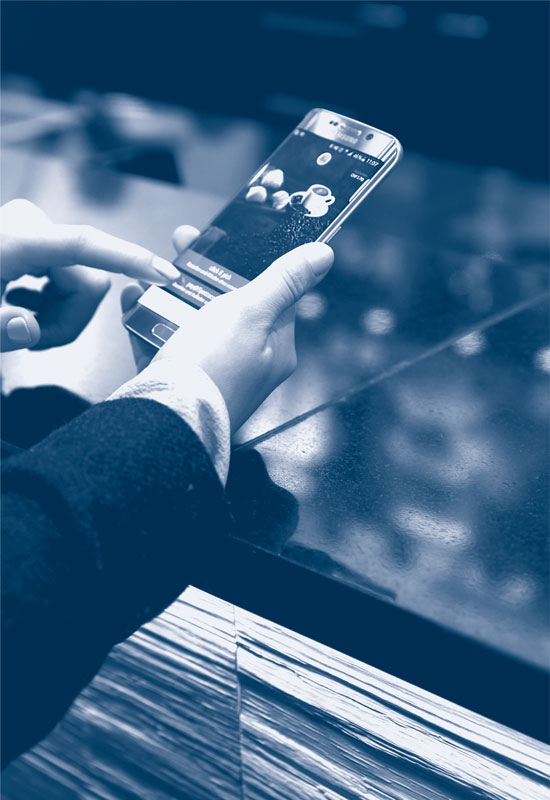 DIGITAL: INNOVATIVE – TIME AND SPACE INDEPENDENT – METROPOLITAN – IN TOUCH
Thanks to its network of prime outlet sites and the speed with which it is developing its digital expertise, Valora is able not only to make the most of its 1.6 million daily contacts with its customers but also to increase the depth of relationships with its existing customer base.
Valora's numerous outlets provide a unique marketing platform for digital offerings. A key objective for Valora is to leverage the potential for expanding the volume of business it does with impulse-driven, digitally adept customers living and working in urban areas.
Valora in 2015
JANUARY
EURO FLOOR EXCHANGE RATE DISCONTINUED
EURO FLOOR EXCHANGE RATE DISCONTINUED
On January 15, 2015, the Swiss National Bank abandoned its euro minimum target exchange rate of CHF 1.20. After temporarily falling to below CHF 1.00, Europe's single currency recovered somewhat from mid-year onwards, closing 2015 at CHF 1.08. This significantly impacted retail volumes in Switzerland, as increased cross-border shopping cut overall Swiss consumer spending by several billion francs over the course of the year.
FEBRUARY
SHARING KNOWLEDGE / TWO NEW ok.– MOBILE APPS
SHARING KNOWLEDGE
Valora hosts regular events where outlet staff, suppliers and management meet to share knowledge and experience. The convenience-store and kiosk conferences each attracted over 1000 outlet managers, franchisees, agency partners and suppliers. The franchise meeting hosted by Valora Retail Germany in May enabled some 150 participants to find out more about current industry topics.
---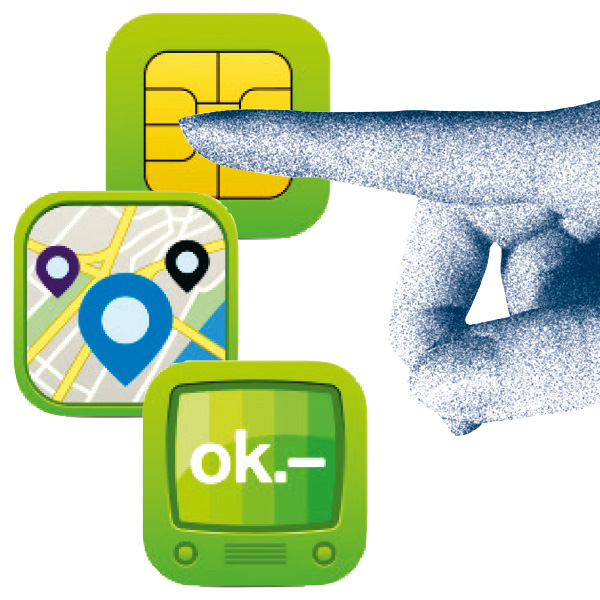 TWO NEW ok.– MOBILE APPS
ok.– mobile is the prepaid mobile service offered by Valora's popular ok.– brand. Valora added two new apps to the existing offering during 2015, both available on Google Play and from Apple's App Store. The ok.– mobile Prepaid Charger shows registered ok.– mobile users their current credit balance and also has a Valora store locator feature. The new ok.– mobile TV app offers its users a choice of 50 TV stations to watch.
MARCH
NAVILLE ACQUISITION / NEW CONVENIENCE STORE CONCEPT / SHAREHOLDERS APPROVE BOARD RECOMMENDATIONS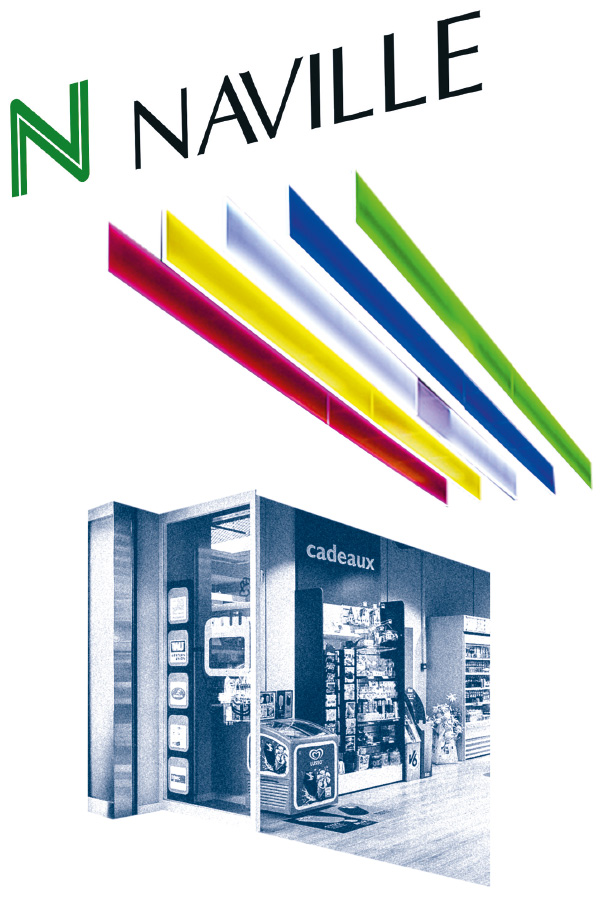 NAVILLE ACQUISITION
The Valora Group acquired Naville with effect from March 2015. In addition to its network of more than 178 outlets, the Geneva-based company also operates one of the largest distribution platforms in French-speaking Switzerland. The acquisition has significantly enhanced Valora's presence in the Swiss market, providing it with a nationwide network of convenience stores in a variety of formats. By year end, the integration of the Naville outlets into Valora's operations had been successfully completed. The Naville acquisition is a major step for Valora, underscoring its strategic retail focus.
---
NEW CONVENIENCE STORE CONCEPTT
With its rebuild completed, the U-Store at the Lattenkamp metro station in Hamburg reopened with a new design and an expanded product range. Valora Retail Germany is using this location as a pilot outlet for the future design of its convenience stores. Besides its appealing, modern look, this new concept places greater emphasis on food freshly prepared on site. First entered for the POS Marketing Awards in 2015, Valora Germany's new U-Store concept won no fewer than three awards, with bronze medals in the Retail, Creative Artwork and Budget categories.
---
SHAREHOLDERS APPROVE BOARD RECOMMENDATIONS
The 2015 General Meeting of Shareholders voted in favour of all agenda items proposed by the Board of Directors. Besides approving the 2014 financial statements, shareholders also endorsed the proposed dividend totalling CHF 12.50 per share and the 2014 remuneration report. All Board members were re-elected for a further year (till the 2016 AGM), as was Rolando Benedick as Board Chairman.
APRIL
NEW MARKETS FOR BREZELKÖNIG
NEW MARKETS FOR BREZELKÖNIG
Brezelkönig opened a new outlet in Vienna's landmark Donauzentrum shopping complex in late April, its first in Austria. The new shop represents the first step in Brezelkönigs's international expansion strategy. While some modifications were made to suit Austrian tastes, the range of pretzels on offer in Vienna is based on the formula Brezelkönig successfully developed for the Swiss market. Two additional outlets were opened in Vienna during the year, first in Vösendorf, then in Meidling. The successful Vienna outlets are providing valuable insights for Brezelkönig's expansion plans, which continued with the opening of its first two shops in Paris in mid-December.
MAY
ok.– EXPANDS AND LAUNCHES NEW PRODUCTS / GROUP REORGANISATION GETS UNDER WAY
ok.– EXPANDS AND LAUNCHES NEW PRODUCTS
Having rolled out its popular ok.– private-label range to Germany in 2012, Valora introduced some 20 ok.– products to its Naville stores in French-speaking Switzerland in May 2015. Naville now sells everything from ok.– energy and energy cola drinks to ok.– umbrellas, and plans to expand its ok.– range substantially in 2016. In Switzerland, Valora not only sold over 23 million cans of its ok.– energy drink in 2015, but also launched 10 new ok.– products. In Germany, ok.– energy drink is now an official partner of the St. Pauli football club and has been added to the drinks on sale at its Millerntor stadium.
---
GROUP REORGANISATION GETS UNDER WAY
Valora is optimising its structures to meet the demands of a changing retail market. The objective is to create a Group structure which is agile, competent and execution-focused. One key element in this strategy is the Naville integration. Smart user-friendly apps are another, with staff at the newly created Valora Lab now working on developing new digital solutions to accelerate the expansion of Valora's services offering. Valora also plans to adopt a more supranational approach to its internal services in areas such as information technology and finance.
JUNE
LOYALTY PROGRAMMES BRING CUSTOMERS CLOSER / VALORA LAUNCHES BOB MONEY, ITS FIRST ONLINE FINANCIAL PRODUCT / DITSCH OPENS 22 NEW OUTLETS
LOYALTY PROGRAMMES BRING CUSTOMERS CLOSER
During the summer, Valora ran a new loyalty programme offering its customers Spiegelau crystal glasses at bargain prices. A total of 120 000 sets of glasses were sold during the campaign, which generated revenues of about CHF 1 million. Autumn saw the launch of a new Monster Deals campaign, following on the success of the initial promotion in 2014. Customers were able to participate in the prize game both offline and online, with a chance to win prizes either by collecting traditional stickers for their Monster Deal albums or using the Monster Deal mobile app.
---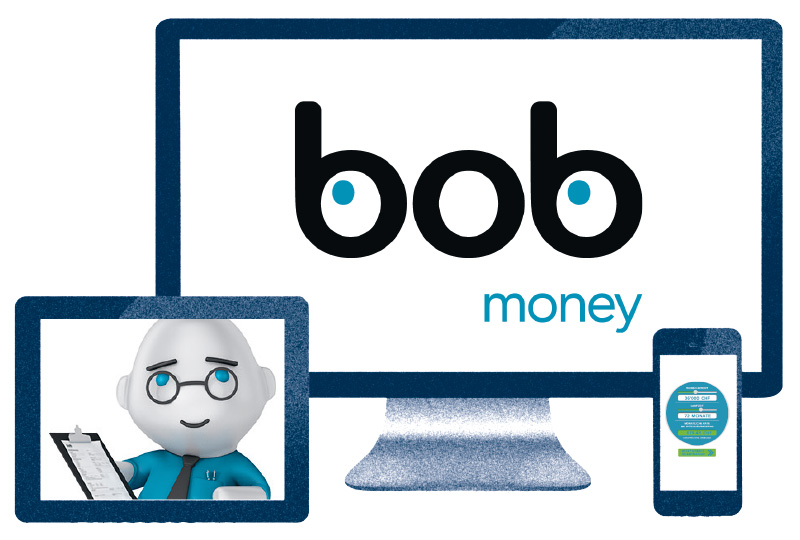 VALORA LAUNCHES BOB MONEY, ITS FIRST ONLINE FINANCIAL PRODUCT
The Valora Lab is where the Group evaluates ideas for new digital products and services. Shortly after bob Finance AG was established in mid-June, the development team presented its first product, bob money. The Cantonal Bank of Glarus finances the bob Money loans, which are advertised on posters at Valora outlets. All advisory and applications- processing services are carried out online or by telephone.
---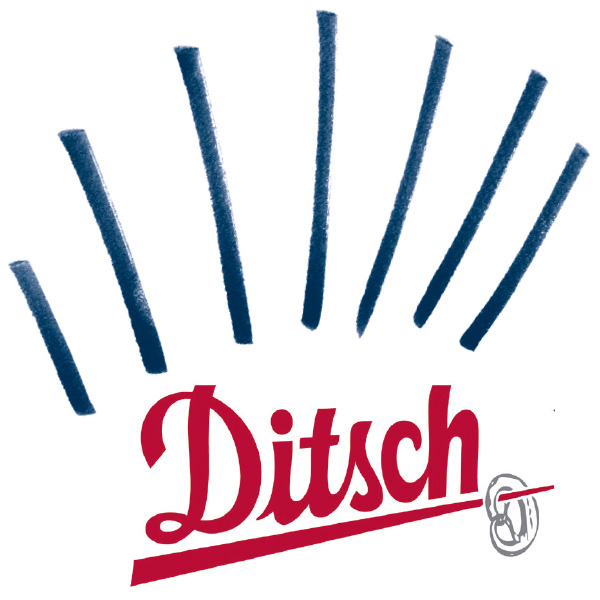 DITSCH OPENS 22 NEW OUTLETS
Ditsch opened a total of 22 new shops in 2015, increasing the size of its nationwide German network to 213 outlets. New openings in Rosenheim and Regensburg further raised the company's profile in Southern Germany. More than 40 % of the new outlets are at railway stations, which remain central to the network strategy. Station outlets make the most of Ditsch's expertise with compact premises, as notably demonstrated by the shops at the Alexanderplatz station in Berlin and at the main station in Regensburg, both of which occupy some 10 square metres of floorspace. Ditsch is now using more twin-storey chilled display cabinets, which ideally complement the proven heated displays as a means of presenting the optimised product range to best advantage. The new Ditsch store design was extended to eight existing outlets, thus also streamlining their use of energy.
JULY
GOODS LOGISTICS UNIT SOLD
GOODS LOGISTICS UNIT SOLD
One year after the sale of its press wholesaling and press logistics operations in July 2014, Valora sold its goods logistics unit to 7Days Media Services. By spinning off its internal warehousing and transport services unit, Valora was able to streamline its organisational structure.
AUGUST
NEW iTUNES PASS SERVICE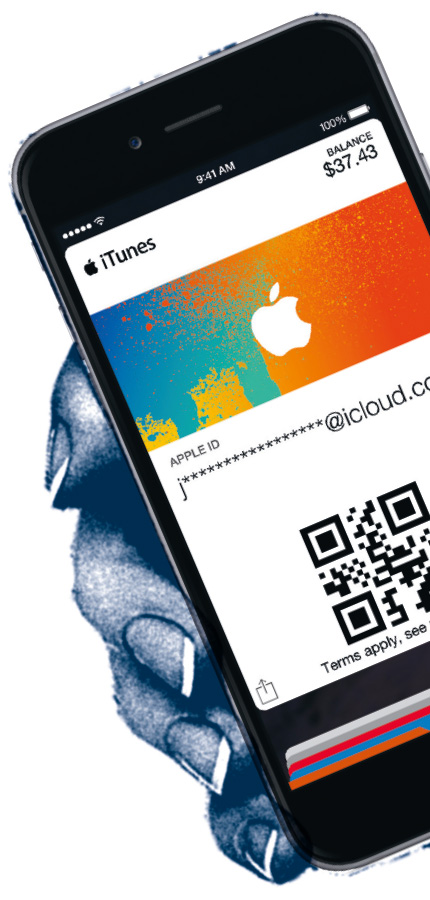 NEW iTUNES PASS SERVICE
Since August, customers have been able to add credit directly to their iTunes accounts by visiting any k kiosk or Press & Books outlet. As the largest Swiss reseller of iTunes cards, Valora is the first retailer in Switzerland, other than Apple Stores, to offer this service at its outlets.
SEPTEMBER
EXPANDED COFFEE OFFERING
EXPANDED COFFEE OFFERING
As part of its strategy of focusing on convenience retail and responding to current consumer trends such as the preference for freshness, Valora is constantly adapting its offering to meet the needs of its urban, mobile clientele. Thanks to its comprehensive Swiss outlet network, Valora is already the preferred coffee destination for some 900 000 customers every day. By late 2016, new Starbucks modules will be installed in up to 100 Valora outlets, offering a wider coffee range and appealing to new customer groups. The popular Spettacolo modules will be rolled out to a further 600 outlets. Selecta, the leading coffee services provider, has been awarded an exclusive contract for the construction and maintenance of the new modules.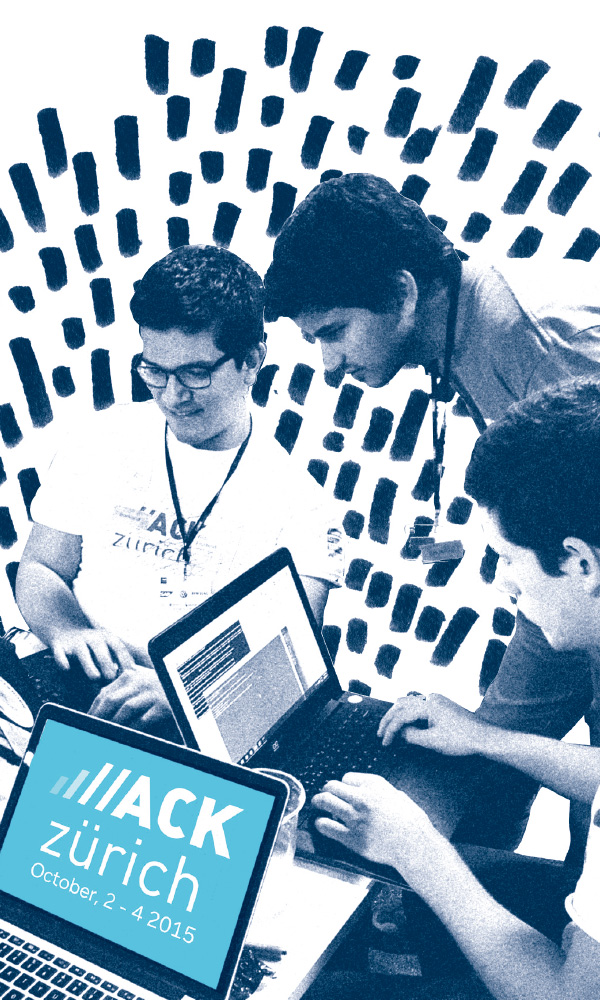 HACKZURICH
Valora was the only retailer to sponsor a workshop at the 2015 HackZurich event. These so-called hackathons provide a platform for developers, startup companies and international firms to link up with each other and work on solving real-life problems arising in a number of different industries. The goal for the Valora workshop teams was to develop functioning mobile-app prototypes designed to enhance the kiosk shopping experience. In the space of 40 hours, 11 teams developed 12 new apps between them. The winning entry was a product-bingo app which generates a discount voucher for every successfully completed virtual bingo session. The combination of gaming, format-transcending cross selling and the coupon extension option proved very appealing to Valora and its customers.
November
SWITZERLAND'S FIRST COFFEE ORDERING APP
SWITZERLAND'S FIRST COFFEE ORDERING APP
Since Spettacolo launched its new coffee-ordering app in November, the first of its kind in Switzerland, queuing up for that morning coffee has become a thing of the past. With the app, customers can specify exactly when they will collect their order, which they can place in just a few simple clicks. The entire standard Spettacolo range, from croissant to focaccia to capuccino can be pre-ordered, as can the coffee roast – light, medium or dark. Payment is made via the app when the order is placed, so customers can collect their order as soon as they arrive at their chosen Spettacolo bar. Customers can also use the app to pay for any ordinary purchases they make while at Spettacolo.
December
OK.– CASH, VALORA'S SECOND FINANCIAL PRODUCT / TRADE DIVESTMENT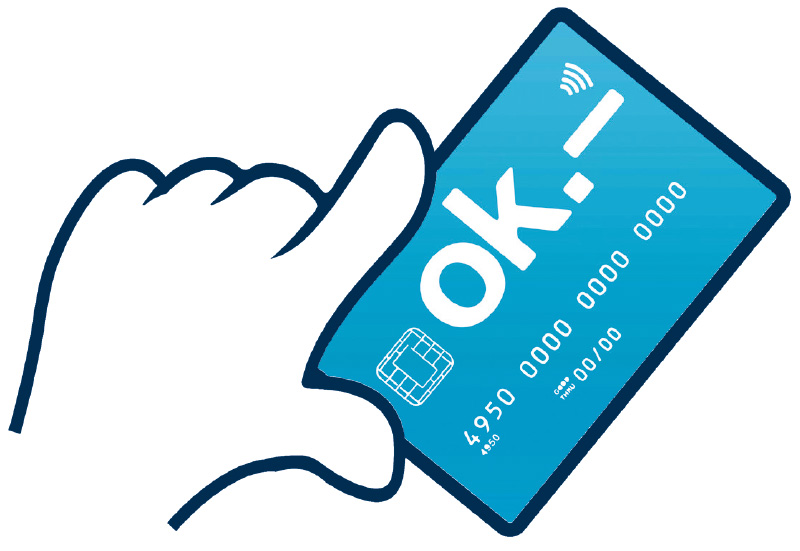 OK.– CASH, VALORA'S SECOND FINANCIAL PRODUCT
Following the introduction of bob money in June, Valora's bob Finance subsidiary launched ok.– cash, its second product, in December. ok.– cash provides loans of between CHF 1000 and CHF 3000 for a maximum of three months. Credit applications are made online, simply and discreetly. Funds are then credited to an ok.– prepaid VISA or Master- Card at any k kiosk or Press & Books outlet in Switzerland. Questions about loan applications are answered online or by phone. By using technology to dispense with a visit to a bank, ok.– cash represents a milestone in the development of credit products in Switzerland. It provides customers with a transparent, simple and discreet way of taking out small loans to meet their short-term borrowing needs. Loans are granted only to customers whose financial situation permits such borrowing. ok.– cash applies high standards to determine in advance whether a loan is compatible with a borrower's financial situation. By requiring a minimum borrower age of 25, ok.– cash has also addressed the issue of potential excessive borrowing by young adults.
---
TRADE DIVESTMENT
At year end, Valora sold its Trade division, which specialises in the distribution of fast-moving consumer goods. Valora's partner in this transaction is Aurelius, a group specialising in corporate acquisitions and restructuring. Aurelius has a successful track record as a long-term investor and already has a number of other investments in Switzerland.
Sustainability report
SOCIAL, ECONOMIC AND ENVIRONMENTAL SUSTAINABILITY AT VALORA
This report provides an account of what Valora has done in 2015 to ensure it operates sustainably. In the area of social sustainability, we focus on developing our employees' skills and nurturing our relationships with customers and business partners. Our initiatives to maintain economic sustainability emphasise the importance of ethical behaviour, be it through adherence to the Valora Code of Conduct, observance of the laws protecting minors or strict compliance with hygiene standards. Appropriate use of resources and respect for the environment are equally important to us, in everything from anti-litter projects to the way we renovate our infrastructure. All our sustainability initiatives address current and future needs.
---
SOCIAL SUSTAINABILITY
THINKING AHEAD AND TRAINING FOR THE FUTURE
Internal training enhances the skills of our employees. For that reason Valora offers its staff a broad range of courses to prepare them for tomorrow's challenges. "Learning is a lifelong task, nowhere more so than in the workplace. Those who are always thinking ahead and constantly enhancing their own skills will be able to motivate others and get things moving. That certainly applies to us at Valora, because qualified employees provide us with a competitive advantage" says Peter Obeldobel, Chief Executive of Valora Retail Germany. That is why Valora has significantly expanded the training curriculum it offers in Germany. "In establishing the valoraCampus, we have created an environment devoted to the professional training of our employees, thus enabling them to progress further in their specific disciplines, in managing themselves and in leading others", he explains.
A key training initiative in Switzerland in 2015 was the four-day "Advising entrepreneurs" programme, a development course for sales managers focusing on the skills required for their multi-faceted roles in working with Valora employees, agency partners and franchisees. A total of 25 sales managers from Switzerland, Germany and Luxembourg attended the course, which also helped participants to identify synergies and develop new cross-border networks. "Besides maintaining our tried and tested Leading@Valora modules and our Leadership Days for our managers, we also initiated a new personal-development course entitled "Unleash your inner potential", explains ChristaHeinke, Head of HR Development at Valora Switzerland.
E-learning courses using the Avendoo Learning Management System are another important element in Valora'straining strategy. To prepare for the launch of ok.– cash, for example, Valora developed a new e-learning module which ensured that all outlet sales staff received the necessary product-knowledge training in a uniform and timely fashion. Other e-learning modules are used to ensure compliance with the standards required for money-transfer operations and compliance with anti-money-laundering laws. All staff, wherever they work and whatever their working hours, can easily access these e-learning modules. Valora intends to make even greater use of them in future.
Since 2010, Valora has also been operating the Retail Lab Certificate Programme in partnership with the University of St. Gallen. To date, 22 Valora employees have attended modules in St. Gallen, Oxford and Barcelona, enabling them to put innovative ideas into practice. A further two Valora emplowyees will participate in the programme in 2016. For Valora, the Retail Lab Research Workshops provide another excellent opportunity of presenting itself as an attractive employer.
YOUNG TALENT IS THE KEY TO FUTURE SUCCESS
"For the last 15 years, we have been committed to developing entry-level staff in the retail kiosk sector", says Monika Oppliger, Head of Vocational Training. 43 apprentices are currently carrying out their fundamental training in Switzerland. Of these, 33 are working towards their Federal certifications as retail assistants or as kiosk, food, beverage and tobacco retail professionals. Of the remaining ten, one is training as a system catering professional and nine are engaged in commercial apprenticeships. With Valora's business partners also investing heavily in training their young employees, the total number of apprentices working for or with Valora is now around 90. "Our new approach will enable us and our partners to build on the success we have already achieved in fundamental vocational training, so that we can continue to offer appealing career opportunities to young adults", Monika Oppliger confirms. Valora Retail Germany is similarly committed to developing its entry-level staff. Two apprentices are training as booksellers and a further seven as press retail specialists. After completing these apprenticeships, they will then be eligible for a further year of training to attain their retail sales diplomas.
Valora also continued to pursue its successful one-year graduate trainee programme in 2015, with two new management trainees hired in Switzerland and one currently studying for a dual degree in Business Administration in Germany. Once they have completed the programme, trainees take up attractive positions in corporate management or as junior sales managers. "We will continue to recruit trainees through this programme in the years ahead", ChristaHeinke confirms.
SOCIAL PARTNERSHIP IN PRACTICE
Since 2009, Valora has operated a collective employment contract whose purpose is to foster and maintain harmonious relations with its employees by offering them conditions in line with current market practice. The agreement covers such topics as working time, wages, sickness and pension benefits. Valora's current partner for this agreement is the Syna trade union. "Valora is committed to the social partnership and maintains a regular face-to-face dialogue with employees' representatives through its participation in the bipartite commission", explains JonathanBodmer, Valora's Head of Human Resources. Valora's Spettacolo employees are covered by the collective employment agreement for the Swiss catering industry.
In determining the restructuring measures which became necessary following Valora's purchase of Naville,partnership-focused cooperation also provided the basis for the social plans voluntarily agreed with the Unia trade union for Naville staff and with Syna for Valora staff. The integration of Naville was a multi-faceted undertaking, requiring new structures which redefined established processes at both Valora and Naville. Cultural and linguistic differences also had to be taken into account. "By actively involving the employees concerned, we were able to define a new structure in which staff from both firms had their place. The cooperation of the employees' representatives was a significant factor in the successful implementation of the integration project", as Jonathan Bodmer explains.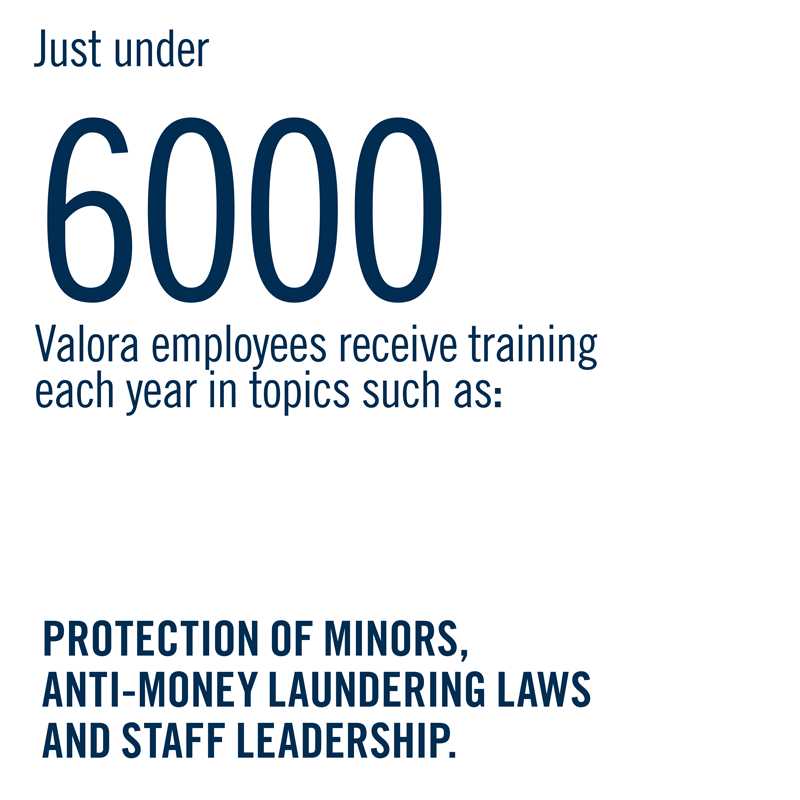 PROMOTING A HEALTHY WORKPLACE
Workplace health and safety are important concerns for Valora. Valora Retail Germany, for example, regularly organises inspections of its working premises by safety-at-work experts, company doctors and occupational physicians. Individual workplaces are assessed, requirements with regard to factors such as ergonomics and lighting are recorded and the necessary modifications made where possible.
LONG-TERM PARTNERSHIPS
Long-term collaboration is critical to Valora's B2B strategy. For decades, Valora has working with Swiss Federal Railways, Swisslos and the Loterie Romande, Switzerland's two main lottery operators, and with Selecta, Europe's leading vending-machine company.
"Valora and its forebears have already been working with Swiss Federal Railways for over 100 years. Today, Valora operates some 300 outlets in various formats at Swiss railway stations. Our long-standing partnership is based on a professional and collegial collaboration which goes beyond the usual ties linking landlord and tenant.
While our day-to-day dealings with Valora focus on expansion and contract administration, our shared and overarching goal is to meet our customers' needs. The combination of Valora's retail know-how with our expertise in station management generates genuine added value for the customers we both serve. Our shared focus on the interplay between retail premises and marketing helps us to ensure that our offerings remain demand oriented", explains André Bagioli, Head of Premises Management and Development.
"The close and successful partnership between Valora and Swisslos began back in 1937, when our company was founded. Our relationship has always been characterised by professionalism, trust and mutual respect", explains Luc Iseli, head of Retail Services at the Swisslos Intercantonal National Lottery. Thanks to its nationwide outlet network, Valora makes a significant contribution to Swisslos's overall sales. The net profit generated by the Swisslos Federation flows back to the cantonal lottery and sports funds, enabling them to support some 12 000 projects in the fields of sport, culture, the environment and social welfare. By distributing lottery tickets through its 929 outlets in Switzerland, Valora plays its part in these efforts.
Valora has also been working with the Loterie Romande for over 30 years. With the enhanced presence in French-speaking Switzerland resulting from Valora's acquisition of Naville, that partnership has been significantly intensified, particularly since the two companies share similar values and objectives. "Valora and the Loterie Romande are both dynamic, forward-looking companies. Both are using digital technologies to respond to a changing market and evolving customer needs. The two companies' numerous joint lottery projects are testimony to the long-term, innovative vision they both share", as the Loterie Romande explains.
Selecta is Valora's chosen coffee partner for all its Swiss retail formats. While the collaboration between the two companies is the result of their shared history, Selecta's partnership with the Retail and Trade divisions was further enhanced following the Selecta IPO in 1997. A key reason for this enduring collaboration is that both place a strong emphasis on their daily contact with large numbers of customers. "This relationship is based on the great respect we have for each other's core expertise and our open and direct lines of communication, which ensure we meet our shared objectives sustainably. Moreover, the success of our jointly developed coffee offering is mainly due to the excellence of Valora's outlets and their highly motivated staff", says Thomas Nussbaumer, the SelectaGroup's Central Region Managing Director.
AGENTS AND FRANCHISEES
Valora maintains a harmonious partnership with its 990 agency outlets and 711 franchise operations. In Switzerland, a total of 14 committees and working groups have been established to ensure the requisite uniformity and coordination. Working in close collaboration with its partners, Valora also organised 20 training days covering employment law, business administration and pension-fund arrangements. Dialogue is also fostered by annual meetings with agency and franchise partners. While these events were held separately in 2015, the first joint annual meeting, with both agency and franchise partners, will be held in 2016.
VALORA'S SOCIAL COMMITMENT
Valora's support for projects outside the company is also making a difference. Spettacolo continued to contribute to water projects in Africa during 2015. Having collected CHF 30 400 for rainwater tanks in Tanzania in 2014, Spettacolo began contributing to a new project in Mali in September 2015, under which World Vision Switzerland will build 3 water fountains worth a total of CHF 24 000 in the Neguela region of southwestern Mali. In addition to the direct contributions made by Spettacolocustomers to the collection tins at the coffee bars, Spettacolo also donated CHF 0.50 for each caffè grande ordered in September, thus enabling Valora to contribute CHF 28 566.85 to this World Vision project.
Simple ideas can also make a big difference, as Valora staff demonstrated by organising two charity flea markets at company headquarters in Muttenz. The proceeds were donated to the Herzensache and Glückskette charities and to Syrian refugees. Valora Retail Germanymade a contribution by donating ok.– bottled water to refugees arriving in Germany. Just before Christmas each year, Ditsch makes a donation to cancer research.
---
ECONOMIC SUSTAINABILITY
QUALITY ALWAYS PAYS OFF
Valora is constantly reviewing its processes for quality assurance, crisis management and product recall. The focus here is on verifying the manufacturers' own quality-assurance procedures, ensuring that product information and the products themselves comply with the law and checking delivery conditions. "Large manufacturers and suppliers operating on an industrial scale must have certification from either the BRC, the IFS or the ISO, and preferably from more than one of these. Their HAACCP self-monitoring procedures must also have be no more than two years old", explains Michel Vaucher, the project manager at Valora Retail Switzerland. Smaller-scale regional suppliers and manufacturers must also comply with these same HACCP standards, which require a risk analysis, the definition of critical monitoring points, a defined range of acceptable values for risk monitoring results and a defined set of risk controls. Specific corrective actions and working instructions for adherence to good manufacturing practice also form an integral part of the HACCP concept.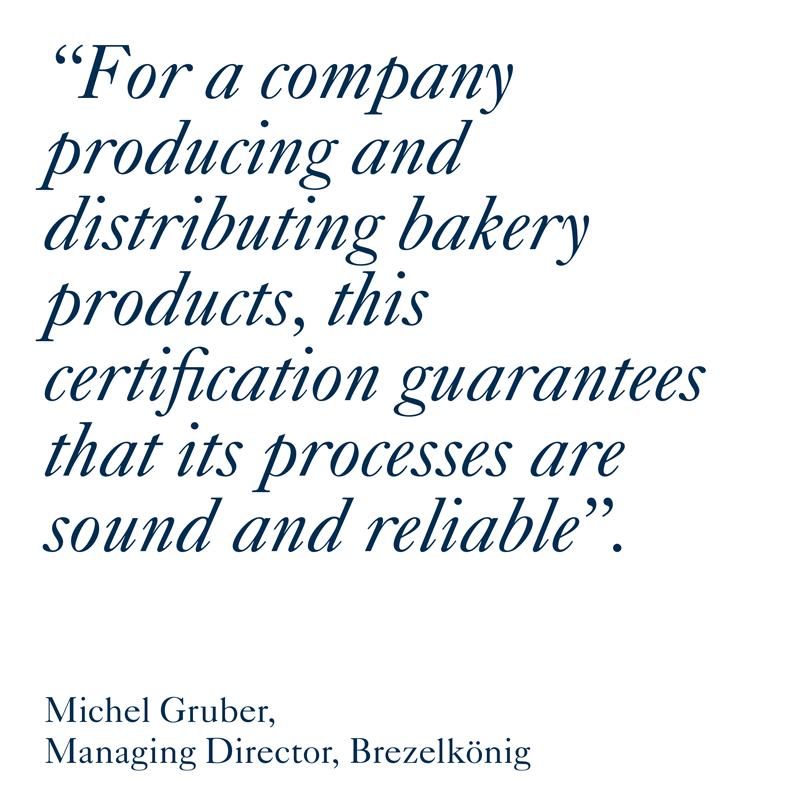 Suppliers are required to provide product specifications for every item in the Valora product range. Swiss food producers must provide written confirmation that their products meet Swiss food-law requirements. Foreign food producers must submit a certificate of conformity issued by a specialised laboratory in Switzerland. Swiss package-labelling requirements, on matters such as such as sell-by dates, apply to both food and non-food articles. Sell-by dates and storage requirements must also be adhered to while goods are in transit.
Valora's private-label ok.– brand products also adhere to strict quality requirements. Every new ok.– product is tested for its conformity with all applicable regulations, with further tests being conducted for every packaging change. Suppliers are also required to carry out regular laboratory tests. "At least once a year, every energy drink is also subjected to both internal and external testing in a certified laboratory", adds Philipp Brühlmann, Valora's Head of Brand Management.
In October 2015, Brezelkönig once again successfully obtained ISO certification, this time for the new ISO 9001:2015 standard. "For a companyproducing and distributing bakery products, this certification guarantees that its processes are sound and reliable", Michel Gruber, Brezelkönig's Managing Director, confirms. Furthermore, both the production plants in Germany have been awarded IFS (Higher Level) and BRC (A-Grade) certification. In addition to their annual scheduled re-certification inspections, these conformity-monitoring schemes also conduct unannounced audits. These audits carry out food-safety and hygiene checks at less than one hour's notice.
Brezelkönig has also substantially increased the number of internal audits it conducts at its outlets. Any shortcomings are recorded as required improvements which must then be systematically implemented.
Furthermore, Brezelkönig introduced a new, optimised cleaning concept for its production facilities and outlets in 2015. This involved checking the suitability of a whole range of cleaning products with regard to their cleansing properties and their use near food. The new concepts have been introduced throughout Brezelkönig in a roll-out process which included half-day workshops on hygiene and HACCP standards for agency partners and staff.
PROTECTION OF MINORS
TOBACCO AND ALCOHOL SALES
Valora takes its duty to protect minors very seriously. Staff receive regular training to ensure they are aware of the issues involved. An e-learnin g programme is carried out each year to train and test employees on topics such as the sale of alcohol and tobacco or the display of erotic publications. Sales managers also hold meetings with their staff to discuss the importance of these rules and Valora's legal obligation to adhere to them. Participation at these meetings is recorded in signed documents.
Valora's new GK till systems also help to ensure compliance by displaying a "check purchaser's age" reminder whenever alcohol, tobacco or erotic publications are scanned into the system. In addition, notices are displayed behind each counter in Germany and Switzerland to remind staff of the local rules. Management, sales managers and outlet staff are all aware of the importance of these checks and it is in their interest to ensure adherence to the law by further improving the protection of minors.
RESPONSIBILITY AND SECURITY IN FINANCIAL SERVICES
Like any other organisation that lends money, bob Finance is assuming a substantial responsibility towards its borrowers. bob Finance's services are designed for digitally adept customers looking for an efficient, online loan application process. By drawing on information from the Centre for Credit Information (in German "Zentralstelle für Kreditinformation" or ZEK) and the Consumer Credit Information Service (in German "Informationsstelle für Konsumkredit" or IKO), bob Finance is able to ensure that its loans do not cause borrowers to fall into financial difficulties and that the amount of their borrowing is in line with the affordability parameters defined by Swiss consumer-finance legislation. With regard to the financial-markets legislation governing the prevention of money-laundering and terrorism, bob Finance is directly regulated by FINMA, the Swiss financial-market supervisory authority.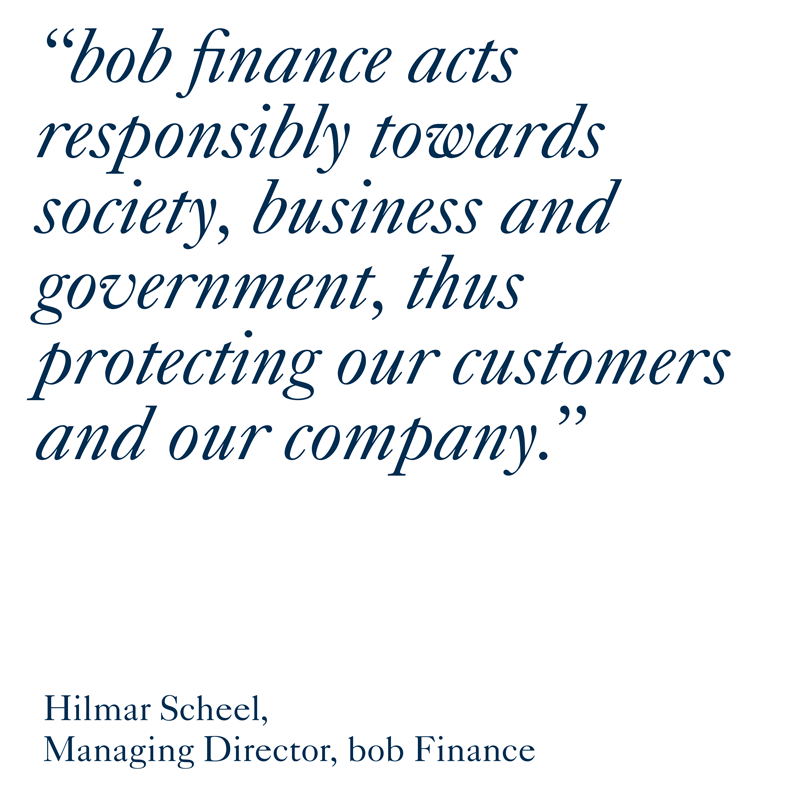 In the case of its ok.– cash product, Valora has deliberately and voluntarily chosen to require a minimum age of 25. Here too, the approval process involves information being obtained from a number of database sources. In addition to excellent creditworthiness, applicants must also be resident in Switzerland and have a mobile phone number.
Because security is of paramount importance to Valora, all data is protected by the most up-to-date security software. The data-transmission processes comply with a variety of certification standards, including EV SSL, the most stringent bank standard for the transmission of encrypted data.
INTEGRITY
The Valora Code of Conduct sets out the standards of behaviour which the company expects from its employees and other stakeholders. Through its eleven principles, the Code defines the high standards of moral conduct and pesonal integrity which Valora expects all its partners to observe. Valora also publishes a compliance handbook for its employees, to provide guidance on how to conduct themselves correctly. Valora staff also have access to an ethics hotline, which provides them with anonymous access to the compliance manager to report any irregularities or criminal activities and to lodge complaints.
---
ENVIRONMENTAL SUSTAINABILITY
USING RESOURCES RESPONSIBLY
In 2015, Valora continued to emphasise the important environmental contribution made by PET recycling. Having already installed collection containers at all outlets with no collection facilities in their immediate proximity in 2014, Valora focused on raising staff awareness in 2015, both through training sessions and internal communication initiatives. Mystery shopping exercises were also carried out over several weeks to ensure compliance.
Wherever possible, Valora's German outlets refrain from using disposable packaging. Drinks, for example, are sold in bottles requiring a deposit, thus incentivising recycling. Under the nationwide DPG deposit scheme, these bottles can be returned to any retail outlet in Germany, which then collects them for recycling. The same applies to scrap paper.
For some years now, Valora has participated in the Basel anti-littering working group, where representatives of business and local government jointly develop initiatives aimed at preventing littering. The "rubbish bag to keep things clean" campaign will be carried out for the third time in 2016. Instead of receiving their purchases in an ordinary plastic bag, customers are given a rubbish bag. The campaign is being promoted by posters on rubbish containers, refuse collection vehicles, advertising boards and on one entire tram to encourage passers by to dispose of their litter properly. In the 2015 campaign, a total of 500 000 rubbish bags were distributed in this way, substantially raising public awareness of the littering issue.
EFFICIENT USE OF ENERGY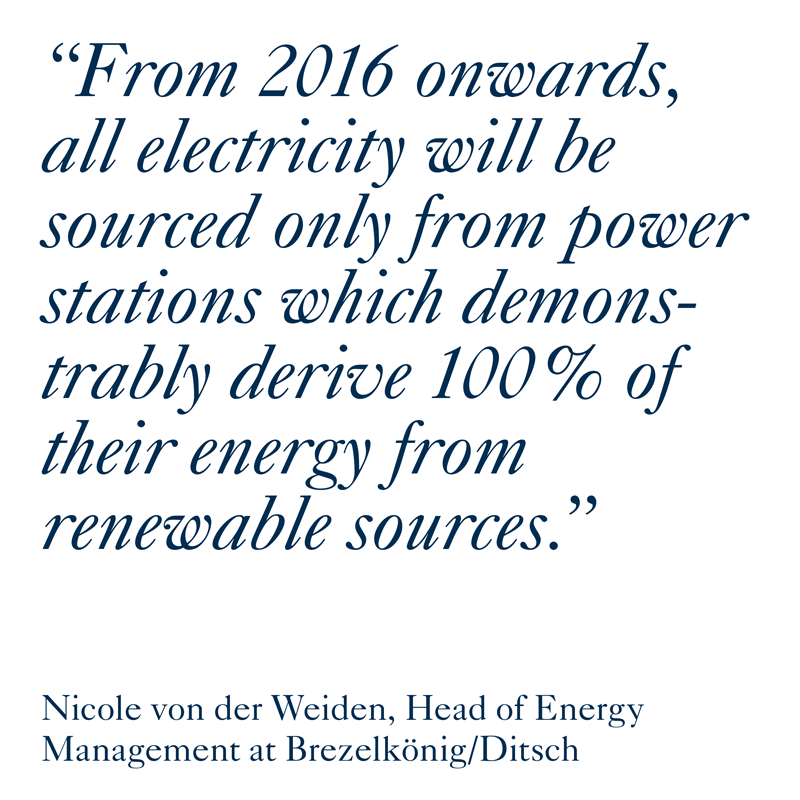 Ditsch was awarded ISO 50001 certification in 2015. The process involved the audited implementation of a new energy--management system over a three-year period. The first step, in 2013, was to document overall electricity and gas use. Additional data on the energy use of individual items of plant and equipment was then collected in order to identify which were the most energy intensive. Final implementation took place in 2015. Energy teams calculated appropriate energy metrics for the various business areas based on consumption, output and sales data for the years from 2012 to 2014. "This provided management with a basis for setting new energy-use targets and defining operational and strategic energy objectives", explains Nicole von der Weiden, who is responsible for energy management at Brezelkönig/Ditsch. From 2016 onwards, all electricity will be sourced only from power stations which demonstrably derive 100 % of their energy from renewable sources. An energy-saving action plan has also been put into effect. Measures here include timing systems which automatically switch off individual machines at the outlets at specific times overnight. Since 2009, the production facility at Oranienbaum has been equipped with a heat pump which recycles calorific energy back to its heating installations.
A Group-wide inventory of all lighting installations is currently being carried, out with LED lighting being installed whenever outlets or other facilities are rebuilt. In Germany, LED illumination is being installed for all external advertising, thus reducing both energy usage and maintenance costs. Every outlet that is rebuilt is also being equipped with energy-efficient class A+ cooling cabinets, coffee machines and ovens. Because these generate less heat, food and beverages do not require as much cooling.