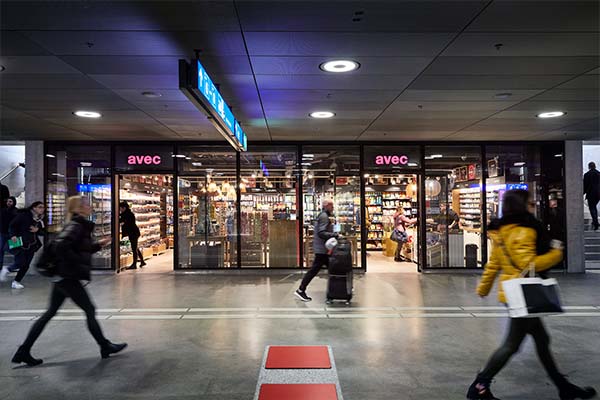 Even more foodvenience – continuously developing the concepts
2018 sees existing formats renewed. In only five months Valora develops a new concept for avec that is strictly focused on the latest foodvenience and ultra-fresh products. avec also now has a regional product line - something new in small-scale retailing in Switzerland. Eight avec stores are opened in the new design by the end of 2018. Valora also announces the opening of the first avec box in spring 2019, the first cashier-free sales outlet in Switzerland. This allows Valora to offer customers 24/7 access to foodvenience and the fresh products range for the first time. In addition, in 2018 Valora revises the Press & Books retail format and opens the first branch with the new look and feel at Zurich airport. Valora also updates the k kiosk format, so it will include more fresh products and food offerings in future.
In the Food Service division, Brezelkönig sales outlets get a makeover. The new BackWerk concept is also adapted for Switzerland and the store in Winterthur reopens. Valora continues to invest in expanding pretzel production facilities to strengthen its leading position in this market. At Ditsch USA Valora manages to double capacity on the existing production line. A further line is also under construction in the USA and two more in Germany.
Valora achieves a strong operating profit in 2018, demonstrating its resilience despite the decline in the print media business in Germany. By permanently renewing its formats and range of offerings, including new services and digital solutions, the dense network of outlets and B2B business for pretzels mean Valora is very well positioned. On this basis it will continue to implement its growth strategy successfully in future.
This is helped from 1 January 2019 by the new organisation with the market and customer-focused Retail and Food Service divisions and Group-wide Shared Services. The new structure allows Valora to better capture synergies and ensure expertise is shared across the Group.
More
Less